Southfork Ranch, Durango Colorado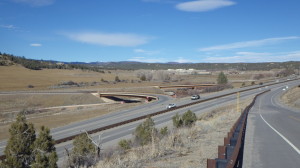 Southfork Ranch was annexed into the City of Durango on May 10, 2012 through the recording of the Crader Annexation Plat, the Crader Subdivision Plat and the Annexation Agreement. All of these documents are available through our Associated Documents tab. The plat created 5 lots within what we are naming Southfork Ranch. These lots are zoned and have established land use designations as outlined in the Annexation Agreement. Currently there are two lots for sale with one lot undergoing a process for further subdivision.
Lot 1 consists of 54 acres with 10 acres dedicated to a Church, 5 acres of Multi Family and 40 acres for retail and associated commercial uses. The owners will sell the entire Commercial and Multi Family portions as a whole or will be offering smaller parcels subject to City approvals. This lot is quite desirable for building due to its relatively flat terrain. There are two excellent sites for large scale retail stores. The lot fronts Wilson Gulch Road and will be bisected by a future street heading North, providing for two high visibility corners. See Crader Subdivision Map.
Lot 2 is 38 acres of which approximately 5 acres developable located on the Round-About Interchange for Hwy 160/550. This parcel has an excellent exposure to Highway Traffic. This parcel is currently under contract. Asking price is $1,500,000.
Lot 5 is 16.89 acres and may or may not be further subdivided. Land use is retail and associated uses as outlined in the Annexation Agreement. It also fronts Wilson Gulch Rd. and has excellent visibility from the Highway.